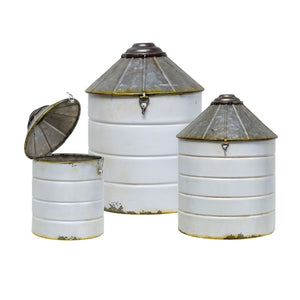 Subtle farmhouse style is simple with the White Silos Set! Each silo-shaped metal container has a weathered white finish and features a galvanized metal lid. It has artificial rusting for an aged look and can be displayed on any flat surface.
Set of 3
Small size measures 8-inches by 5.5-inches in diameter.
Medium size is 10-inches by 7-inches in diameter.
Large size is 11.75-inches by 8.25-inches in diameter
*should be used for decorative purposes only.
Color: White.