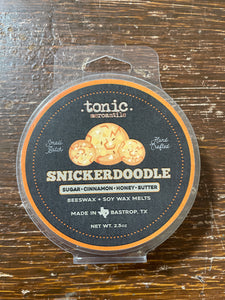 Fill your home with the smell of freshly baked snickerdoodles. A classic cookie treat with the smell of cinnamon, sugar, honey, and butter.
• Sugar, cinnamon, honey, and butter fragrance, phthalate free
• Hand-crafted beeswax + soy wax blended wax melts
• Ideal for a small to medium-sized room
• Approximate Net Wt. 2.5oz, 71g
• Wax Melts burning safety guide included
All of our hand-poured wax melts are eco-friendly, lead and phthalate free, ethically sourced
and produced, and never tested on animals.
Made in small batches in Bastrop, TX.
Enjoy our Snickerdoodle Wax Melts, and always follow proper wax melt burning instructions and guidelines.