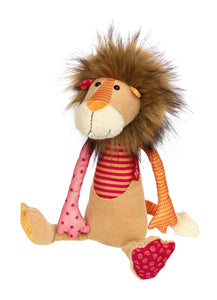 Burned the birthday cake? Dude, don't sweat it! Trust this seen-it-all stuffed lion and relax: like him, it will all come out fine in the wash! Our most idiosyncratic lion does not only stun with his laidback attitude, but with a durable corduroy body, wild multicolor mane, cool stripes and a muted retro color scheme. He's the optimal mate in all parenting fails and ready to cheer up the big and small members of your tribe. And yes, he really is machine-washable.
Size: 12.6"
Age: 3-12 Years
Material: Cotton, Polyester.
Wadding: Polyester
Care: Machine wash in cold cycle.