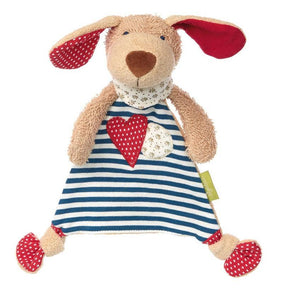 Go nature-friendly for your baby's first snuggle companion! Only natural, organic materials were used in the making of this super-soft companion with friendly dog face, fluffy ears and four easy-to-grasp paws. This blankie meets baby's need for warmth, company and tactile experiences.
Size: 11" x 9" x 3.5"
Age: 0-3 Years
Material: 100% certified organic cotton. Wadding: lambswool.
Care: Machine wash in cold cycle