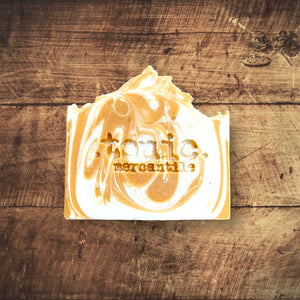 Our Honey Bunny Soap Bar has the sweet smell of bergamot, sweet orange, crisp apple, and golden honey nectar.  Not only does this bar smell amazing, but it's also packed with nourishing ingredients for your skin, like organic raw cocoa butter and ethically sourced tussah silk, which helps to create a rich and creamy lather that leaves your skin feeling soft, nourished, and moisturized.
This soap bar is perfect for those who love high-quality, all-natural skincare products. It's free from harmful chemicals and additives, making it safe for even the most sensitive skin types.
Ingredients/specifications: 
Saponified Oils:  Olive Oil, Coconut Oil, Castor Oil, Sweet Almond Oil, Certified Sustainable Palm Oil, Organic Raw Cocoa Butter
Additives: Colloidal Oats (

Texture

), Sodium Lactate, Sugar Cane, Distilled Water, Salt, Tussah Silk
Fragrance: Golden Honey Fragrance Oil
Colorants:  Yellow mica, titanium dioxide
Size:  Net Wt. approximately 5oz
Our artisan hand-made crafted soaps use only the finest oils, herbs, fragrance and essential oil ingredients.  Each soap batch is meticulously made using the traditional old-school cold process method and aged at least 6 weeks, which produces a harder and longer lasting bar of soap.  Each bar is individually packaged and labeled, and can be given as a gift.  
To prolong the life of your soap, we recommend keeping it dry between uses by placing it on a soap dish that drains and keeps it away from direct streams of water.