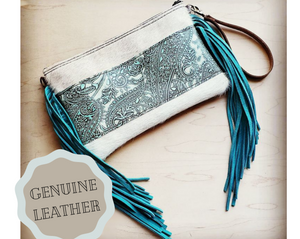 The Leather Clutch is a gorgeous accessory that easily fits into every wardrobe. With a gorgeous high-quality leather, there's something unique.
Measuring at 6" x 9", this clutch offers enough space to carry everything that you need for a night out while still keeping things light and fashionable. This boho clutch has 8" leather fringe, and can be dressed up or down to incorporate it into your look. 
Handmade in the state of Texas, each clutch that we design is entirely unique! So, while the clutch that you receive will look similar to the one in the picture, no two purses sold are identical. One thing you can count on is that this purse will receive endless compliments regardless of where you're taking it.
Genuine Leather
Crossbody strap available for purchase
Handmade Handbag
6"x 9" Clutch
Zipper Closure
Fully Lined
Handmade Genuine Leather Clutch is sourced and made in Texas.
Features 8" leather fringe.
Comes with an 8" leather wristlet strap