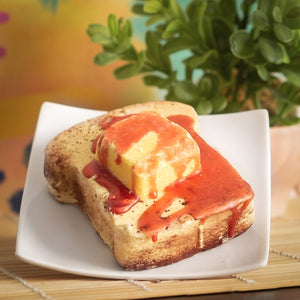 Sunday Brunch anyone? Everything about this was made as carefully as if I were making French Toast for my family - hand blended scents, carefully cut and crafted "toast", a perfect pad of butter, and finished off with a drizzle of soap syrup.
Fragrance: Notes of buttermilk, butter, maple sugar, allspice, cinnamon, and a dash of nutmeg combine to create this decadent bath treat.
How to use: Break apart some of the "toast" and hold it in your hands under running water to create thick luxurious bubbles. Massage the "butter" into your skin for an extra delightful moisturizer.
Ingredients: Sodium Bicarbonate, Zea Mays Starch, Sodium Lauryl Sulfoacetate, Cocamidopropyl Betaine, Cocoa Powder, Cocoa Butter, Mica, (Soap: Glycerin, Propylene Glycol, Sodium Stearate, Sorbitol, Coconut Oil, Sodium Myristate, Triethanolamine, Sodium Laurate, Sodium Cocoate, Purified Water)
Please keep in mind these are handmade, and have a high vanilla content. No 2 are alike.

Made in United States of America