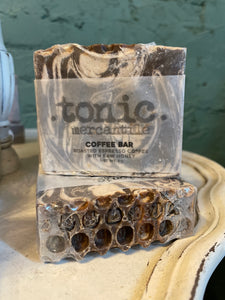 Need a morning wakeup call?  Our Coffee Bar with espresso roasted ground coffee beans will give you the morning caffeine boost you need.  All-natural roasted coffee fragrance oils will stimulate your senses and your skin will feel invigorated from the gentle exfoliation of ground coffee beans.  Combined with organic shea and raw cocoa butters, our Coffee Bar will leave your skin feeling soft, nourished and moisturized.
Ingredients/specifications: 
Saponified Oils:  Olive Oil, Coconut Oil, Castor Oil, Sweet Almond Oil, Certified Sustainable Palm Oil, Organic Raw Shea Butter, Organic Raw Cocoa Butter
Additives:  Kaolin Clay (Texture), Colloidal Oats (

Texture

), Sodium Lactate, Sugar Cane, Distilled Water, Salt, Tussah Silk, Espresso Roast Coffee, Ground Coffee Beans (Exfoliant) Organic Raw Honey
Fragrance: All-Natural Coffee and Roasted Coffee Fragrance Oils
Colorants:  None, All-Natural
Size:  Net Wt. approximately 5oz
Our artisan hand-made crafted soaps use only the finest oils, herbs, fragrance and essential oil ingredients.  Each soap batch is meticulously made using the traditional old-school cold process method and aged at least 6 weeks, which produces a harder and longer lasting bar of soap.  Each bar is individually packaged and labeled, and can be given as a gift.  

To prolong the life of your soap, we recommend keeping it dry between uses by placing it on a soap dish, such as our Tonic Mercantile Soap Saver, that drains and keeps it away from direct streams of water.
No Harsh Chemicals, GMO's or Parabens

If Irritation Occurs, Discontinue Use