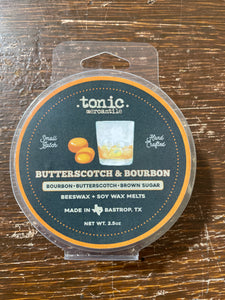 Our butterscotch and bourbon wax melts have a sophisticated scent that will want you pouring a glass of the real thing! Sweet butterscotch is paired perfectly with a traditional bourbon scent.
• Bourbon, butterscotch, and brown sugar fragrance, phthalate free
• Hand-crafted beeswax + soy wax blended wax melts
• Ideal for a small to medium-sized room
• Approximate Net Wt. 2.5oz, 71g
• Wax Melts burning safety guide included
All of our hand-poured wax melts are eco-friendly, lead and phthalate free, ethically sourced
and produced, and never tested on animals.
Made in small batches in Bastrop, TX.
Enjoy our Butterscotch & Bourbon Wax Melts, and always follow proper wax melt burning instructions and guidelines.