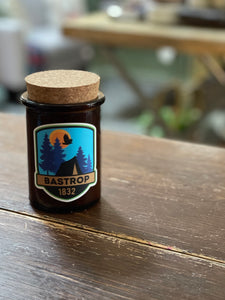 This unique candle is crafted and designed to capture the essence and fragrances of the enchanting town of Bastrop. As you light this candle, close your eyes and let the aromatic notes a Sweet Tobacco, Bergamot, Vetiver, cedar and pine transport you to the captivating aromas that fill the air in Bastrop. Immerse yourself in the warmth of the flickering flame and experience the tranquility of Bastrop 1832.
Sweet tobacco, bergamot, vetiver, cedar and pine fragrance oils, 

phthalate free

Hand-crafted soy + coconut wax blended candle
Burn time:  Approximately 40+ hours
Wick:  Whisper Quiet Wooden Wick
Vessel:  Vintage amber apothecary jar
Responsibly sourced cork lid
Ideal for a small to medium-sized room
Approximate Net Wt.  6oz, 170g
Candle burning safety guide included
All of our hand-poured candles are eco-friendly, lead and phthalate free, recyclable, ethically sourced and produced, and never tested on animals. 
Made in small batches in Bastrop, TX