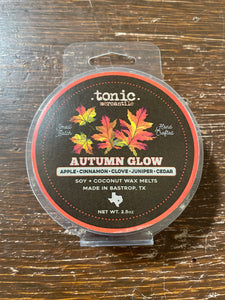 The scent of our Fall Wax Melts, Autumn Glow, reminds you of crisp fall mornings, freshly baked apple pie warming on the kitchen counter, and cozy nights by the fire.
This is a limited-edition holiday scent - and is only available while supplies last.
• Apple, cinnamon, clove, juniper, and cedar fragrance, phthalate free
• Hand-crafted soy wax blended wax melts
• Ideal for a small to medium-sized room
• Approximate Net Wt. 2.5oz, 71g
• Wax Melts burning safety guide included
All of our hand-poured wax melts are eco-friendly, lead and phthalate free, ethically sourced
and produced, and never tested on animals.
Made in small batches in Bastrop, TX.
Enjoy our Autumn Glow Wax Melts, and always follow proper wax melt burning instructions and guidelines.